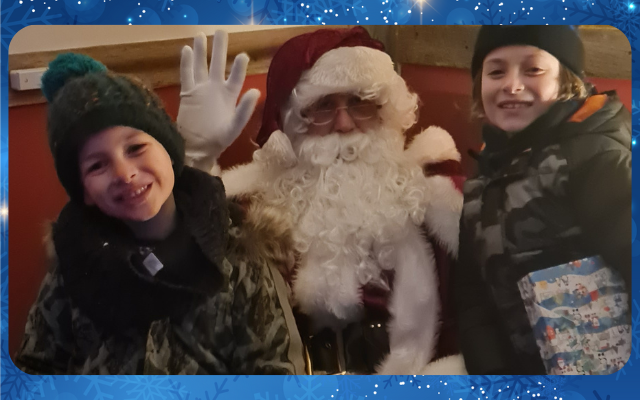 Santa's Winter Wonderland at Tropical Birdland
Being Christmas obsessed it is hard to find a Santa experience we haven't yet done yet locally. Still, we hadn't been to Tropical Birdland for their Winter Lantern Fairy Walk, so this year we decided to check it out, after hearing several good things about it last year.
We arrived for our slot at 6pm and in the dark and struggled to find the entrance as it wasn't very well lit, but we got there in the end! For some reason, we always seem to get the coldest weather when we plan outdoor Christmas activities (one year at Conkers it was -5!) and this past Saturday followed tradition! It is all outside, so make sure you wrap up warmly, we were well prepared and still had little people complaining about frozen toes, so the braziers full of coal along the routes were very welcome.
When you arrive, you sit in a little barn area to wait for your slot to go on the Fairy Walk. They had some colouring sheets and pencils set out so that helped amuse The Littlest while we waited to go in. Mrs Claus then comes and tells you to collect a lantern to help guide you along the Fairy Walk which will take you to Santa's grotto.
The Fairy Walk was very cute, there was some singing Reindeer along the route too. The boys enjoyed pointing out all the various activities the Fairies were doing. It is over quite quickly though and then there was a little waiting around till it was our turn to see Santa. They had someone dressed up in a Hedgehog mascot who was very entertaining and the Elf was very friendly too and was telling us about the birds in the sanctuary.
We eventually got to the front of the queue and an Elf asked how old the boys were and selected them a gift and then we went in to see Santa. As Santa go, he was one of the best we've seen locally. He was really engaging with the children and spent time chatting with them – at no point did we feel we were being rushed which was great, as this is not always the case! We loved the little magic light trick he used to put magic into their presents so he could find them on Christmas Eve, The Littlest was absolutely astounded!
After we had finished with Santa, we made our way through another little walk with a very cool igloo that the kids stopped and posed in and then we arrived in a square with some stalls and a bar. We got a mulled wine and the kids wanted to 'Hook a Bag' which was £3. After some technical issues with the card machine, my two ended up taking the last two bags, much to the disappointment of the other children behind me.
Things took a turn when we went into the cafe. I think they were having some issues with the tills, which is fair enough, out of their control, but it seemed they needed all members of staff to deal with the issue whilst everyone in the queue waited…and waited. After 20 minutes a few people in front of us abandoned ship but we held on for another few minutes as The Littlest was desperate for a hotdog, only for us to discover they had sold out when we were finally served. After an almost 30-minute wait, it was extremely annoying, when a simple 'sold out' sign could have been tagged onto the menu board, especially as hotdogs and chips were the only real kids-friendly items for sale.
Cold and hungry, we decided to head home after popping in to see some birds who were on display for a meet-and-greet type scenario. This was absolute chaos, there was one member of staff, lots of shrieking kids and lots of birds! The kids loved having them land on their hats though.
There is also a chance to visit the Snow Queen, but we didn't pay the extra fee to do that. All in all, we had a good time, it is just a shame a few poor planning issues had an impact on the evening, but the Santa experience made up for it. I think it could be priced slightly lower, given we were only really there for an hour, but the presents the kids got were pretty decent, The Littlest got a craft kit which kept him amused all of the next day.
Ticket Price: £16.00 kids / £4.00 general admission plus booking fee. SnowQueen is an extra £5.00 or £9,00, depending if you want to get chocolates or a present.
Tropical Birdland, Lindridge Lane, Desford, LE9 9GN, [email protected]